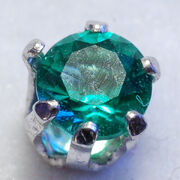 Helenite, also known as Mount St. Helens obsidian, emerald obsidianite, and ruby obsidianite, is a synthetic gemstone made from the fused volcanic rock dust from Mount St. Helens. Helenite was made from the fusing of rock emitted from Mount St. Helens during the May 1980 eruption. In spite of its nicknames, Helenite is synthetic glass and not obsidian.
Helenite comes in various red, green and blue varieties.
Ad blocker interference detected!
Wikia is a free-to-use site that makes money from advertising. We have a modified experience for viewers using ad blockers

Wikia is not accessible if you've made further modifications. Remove the custom ad blocker rule(s) and the page will load as expected.